---
☼ customize your collar with your choice of rose gold, matte black, or silver metal hardware
☼ our collars are lined with a sturdy cotton webbing - making them soft and comfortable but also sustainable for your pup! 

☼ each collar is handmade. this means each collar is unique and may have slight differences in the placement of patterns and designs.


☼ sizing -
measure around your pup's neck, allowing approximately 2 fingers width fit inside of your measurement to find the best fit.
small: 8 inches - 12.5 inches
medium: 11 - 17.5 inches
large: 15 inches - 23.5 inches
TIP: if you're at the very end of a measurement, we recommend sizing up! 


☼ product care -
we recommend spot cleaning or hand washing to keep your collar looking its best! no collar is indestructible - always check your collar for signs of wear and tear.
while we stand by the quality of our collars and use them on our own dogs, we do not recommend using them as your only restraint when walking your dog. our collars are in the fashion category and are not recommended for pullers or heavy duty use.


☼ we love seeing your pup in our creations!
tag us on insta for a chance to be featured: @palmsandpawsco
Customer Reviews
05/14/2020
Tristan K.
United States
Beautiful and sturdy quality!
This is the kind of collar that you take your dog out wearing and other people ask you where you got it (the collar, not the dog)!  This collar is really good quality, and the pattern is super nice! The hardware is a nice weight metal- not heavy for your dog (even on my 14 week old Golden pup), but a weight where you can tell it's sturdy. Rose gold is gorgeous and coordinates perfectly with the Spring Fever pink pattern. I was worried her gold hardware tag/leash might clash but it's just fine! Also the material of the actual collar is thick and I feel will hold up well. The collar fits my pup on the tightest setting and I can loosen it as she grows. The only drawback is I'm nervous my pup will get it dirty with most of the material on this being white, but I could've always picked a different color. It's my dog's "dressy collar" for seeing people/going out and not the one she wears everyday anyway, so I think it will be fine! Not sure yet if this will become her everyday collar once she outgrows her current puppy collar or if I'll just order another from here in a different color! I look forward to purchasing more in the future! I would definitely recommend these collars!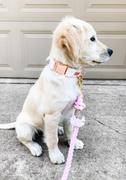 05/17/2020
palms + paws co.
Thank you so much for your feedback! She is absolutely adorable in her spring fever collar If the collar gets dirty in the future, it is safe to run it under water and spot clean it! It will air dry perfectly fine!